How the Mechanical Tomato Harvester Prompted the Food Movement
[UC Davis alumna Ildi Carlisle-Cummins writes about the evolution of California's food movement.]
From Ketchup to California Cuisine: How the Mechanical Tomato Harvester Prompted Today's Food Movement
by Ildi Carlisle-Cummins
July 15, 2015
reprinted from Civil Eats (with permission)
When you think of California cuisine, do you imagine baby lettuces doused in olive oil, and carefully arranged on white plates?
If you've ever driven down the Highway 99 corridor, which cuts through California's Central Valley, you might have a different sense of the state's contributions to global food culture. Driving 99 any hour of the day or night, from July through September, you'll likely have to swerve around trucks mounded impossibly high with tomatoes. You'll pass acres and acres of dense, low tomato plants being harvested by machines that spit them out into trailers bound for a string of processing facilities that dot the valley.
This year promises to be a record for processing tomatoes, with a projected 14.3 million tons harvested. California's Central Valley will, yet again, play a critical role in ensuring that one of America's favorite condiments -- ketchup -- remains in plentiful supply. On the surface, this cheap condiment might not seem to have anything to do with California cuisine. But, as it turns out, there's an incredible tale that ties the two together in surprising ways.
When plant breeder Jack Hanna and engineer Coby Lorenzen, two scientists at the University of California, Davis, teamed up in the mid-1950s to invent a machine that could mechanically harvest tomatoes, no one thought they could do it. The laughingstock of the Davis Plant Science department for more than a decade, the two made countless prototypes that failed -- tomatoes split and turned to juice in the field, and the machine broke down after hitting clods of dirt.
Plus, when they started, it was cheap and efficient to pay farm laborers, many of whom were brought into the country from Mexico through the Bracero program. These guest workers harvested tomatoes by hand in much the same way that workers in places pick fresh tomatoes today: very gently.
By 1963, rumors started to circulate that the Bracero program was coming to an end and the tomato industry broke into a cold sweat over the prospect of losing 80 percent of the cheap labor force they used for tomato picking. In a dramatic tale of perseverance and ingenuity, Hanna and Lorenzen achieved the break-through they'd been waiting for. The industry quickly pinned their hopes on the rickety machine and the new, tough, easily de-stemmed tomato hybrid affectionately named "vf-145" that scientists were developing alongside it, in hopes that it would withstand a mechanical harvester.
With help from a local machinist named Ernest Blackwelder, and an eager network of financiers and UC Cooperative Extension agents, the California processing tomato industry mechanized almost overnight. Within five years, 99.9 percent of the industry was using the mechanical harvesters, and most farmers were planting the comparatively tasteless hybrid tomatoes built to withstand them. And processing facilities retooled their systems to receive the mechanically harvested fruit, reversing the practice of paying premiums for hand-harvested tomatoes.
Twenty years later, nearly all of the tomatoes grown in the U.S. for tomato sauce, paste, ketchup, juice, and other processed foods are harvested by Hanna and Lorenzen's once-scorned machine.
As Carolyn Thomas, professor of American Studies at UC Davis, points out, the invention of the tomato harvester was not just a technological advance. It was a genuine breakthrough in the way that scientists thought about agricultural development. In order to be successful, the plant scientist had to think first about the physical properties of the tomato as it passed through the machine, rather than thinking about it as a crop destined for markets and mouths. For the thing to work, Hanna had to prioritize compatibility with industrial harvesting and shipping systems over flavor -- a breeding practice that we've since seen again and again, and which earned the variety the unappetizing nickname of "square tomato."
Luckily for the industry, Hanna's new variety landed in foods where it would be seasoned with plenty of sugar and salt. In one telling of this story, this technological breakthrough saved an industry in California that almost certainly would have moved to Mexico as the Braceros returned home.
But the story doesn't end there. When the University of California released the tomato harvester, they also set loose a machine into California farm fields that ended up having huge social impacts. For one, the new harvesters were expensive and required a lot more land to make a profit. In the first five years after the machine's release, 4,428 of 5,000 tomato growers went out of business (a whopping 82 percent consolidation in the industry) and an estimated 32,000 farm workers lost their jobs.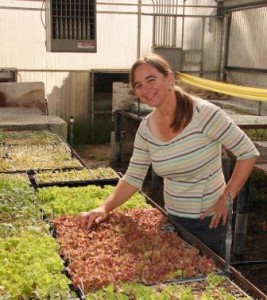 At the same time, another band of characters straight out of central casting -- a rag-tag bunch of creative and passionate activists -- weren't about to let the UC land-grant system, a public institution with a mandate to serve all Californians, get away with that.
As the tomato industry transformed and unemployment swept the Valley, a varied coalition of activists solidified into the California Agrarian Action Project, or CAAP, which would later morph into an organization that is still defending small farming today: the Community Alliance with Family Farmers (CAFF).
In 1979, CAAP fired the opening volley in what would be a 10 year legal battle against the University of California, suing on grounds that the tomato harvester in particular -- and UC's agricultural research program in general -- violated the 1887 Hatch Act, which provided federal dollars for agricultural research intended to support family farming.
From 1979 to 1989, the case moved through the judicial system, with CAAP winning their first suit and eventually losing on appeal. Along the way, however, the activists managed to kick up a whole lot of dust, creating a public debate about who benefitted from technology that came from UC labs and whose research priorities consistently fell by the wayside. This P.R. nightmare forced the University to create the Small Farm Center in 1979, which would specifically focus on the needs of low-income and small farmers in California.
Building on this momentum, in 1985 CAAP co-authored a senate bill, which funded the creation of Sustainable Agriculture Research and Education Program (SAREP), an initiative that that would support and legitimize California's budding sustainable farming industry. CAAP and like-minded organizations with names that are familiar to today's food movement advocates in California, including the California Institute for Rural Studies and the Ecological Farming Association -- were off and running, creating fertile ground for the development of alternative farming systems across the state.
In other words, the mechanized tomato harvester may have paved the way for both the industrialization of our food system and California's local food revolution (an early spark for the national farm-to-table movement). Advocacy organizations and UC programs born out of the tomato harvester fight nurtured the type of farms and farming practices that are highlighted each night on the pristine plates of restaurants like Chez Panisse and the French Laundry. And many of the growers who made California cuisine possible were responding to industrial production practices as much as they were drawn farming for its own purposes.
So as tomato truckers make more trips than ever to Central Valley processing plants this summer, we can take this story as inspiration to ask essential questions, such as: What kind of California agricultural system would benefit all of us? Who does the system support and who does it exploit? What problems should the Hanna and Lorenzen research teams of today be solving?
While adding ketchup to California cuisine's white plate might seem like sacrilege to some, digging down to reveal the roots of our food system -- and getting real about California cuisine -- might help more of us keep these critical questions in focus.
About the Cal Ag Roots Series
This article is the first in a series focused on pivotal moments in the development of California agriculture. This fall, Cal Ag Roots, a project of the California Institute for Rural Studies (CIRS), will launch a live storytelling event and podcast series called Docks to Delta, which will take place on-board the Capitol Corridor train. See the CIRS website for more details.
About Ildi Carlisle-Cummins
Ildi is director of the Cal Ag Roots Project at the California Institute for Rural Studies. She holds an M.S. in Community Development from UC Davis, and over the past 13 years, has led projects all over the state that bring people together to shift California agriculture towards sustainability and justice. Among other jobs, she ran the statewide Farm to School Program for Community Alliance with Family Farmers (CAFF) and was Associate Director of FoodWhat, a youth empowerment program in Santa Cruz.
Primary Category
Tags