Marino appointed UC Presidential Chair for tree nuts
Research aim: New orchards could produce more, sooner
Giulia Marino is looking at some promising new varieties of pistachio trees to help growers facing warmer winters, reduced water quantity and quality, and rising management costs.  As the new University of California Presidential Chair for Tree Nut Genetics, Marino's work will help farmers in the state's $5-billion-and-growing industry become more resilient and more profitable.
Marino is an assistant professor of Cooperative Extension in the Department of Plant Sciences, at UC Davis. She was recently appointed chair by the UC Office of the President.
California's farmers have only a handful of pistachio varieties available to them, Marino said. As they plant new orchards across the state, they have few options for dealing with diverse and changing environmental conditions.
One of Marino's goals is to develop dwarf varieties that will allow farmers to plant more trees per acre and lower their pruning costs. Other varieties are expected to offer higher resistance to boron, which occurs naturally in some California soils and is carried in the water.
In addition, some varieties need fewer hours of winter cold to produce spring flowers: That's a promising answer to rising wintertime temperatures, which already have interfered with pistachio flowering and slashed orchard productivity.
"My work includes developing practices for irrigation management specific to the new genetic varieties, based on the trees' response to water stress," Marino added. 
Part of larger effort to improve tree nuts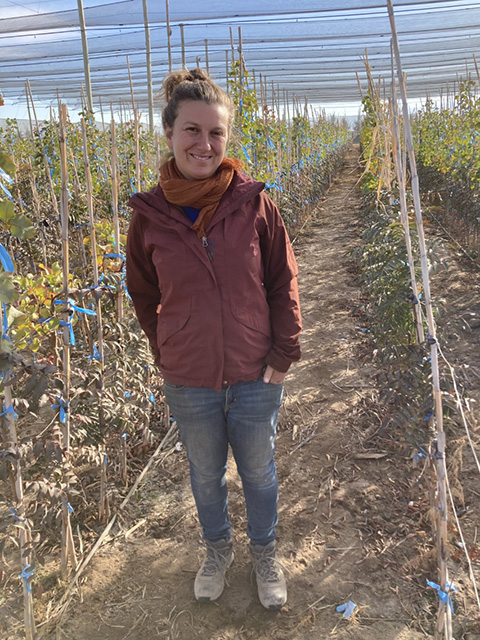 As a basis for her work, Marino aims to understand the complex interactions among pistachio rootstocks, graft varieties and their surrounding environments. For her source material, Marino is evaluating new combinations of rootstocks and graft varieties – called scions – already developed in the UC Pistachio Breeding Program. The combinations were developed by Craig Kallsen (Kern County UCCE farm advisor) and Dan Parfitt (UC Davis emeritus).
"Overall, this project will increase the genetic diversity of the pistachio industry and reduce its susceptibility to climatic and social changes," Marino said.
Marino is based at UC Kearney Agricultural Research & Extension Center in Parlier, Calif. As Presidential Chair for Tree Nut Genetics, her work receives five years of operating funds – around $42,000 yearly – to support research and outreach, with an emphasis on pistachios, throughout the state. Her work also is supported by an endowment from the California Pistachio Research Board.
Pistachios are California's No. 2 tree nut crop, estimated to generate $5.2 billion in economic impact in 2020, according to the American Pistachio Growers. With planted acreage rising to 520,000 acres in 2021, pistachios are the fastest-growing tree nut crop in the state.
Media Resources
Trina Kleist, tkleist@ucdavis.edu, (530) 754-6148 or (530) 601-6846
Primary Category
Secondary Categories
Tags