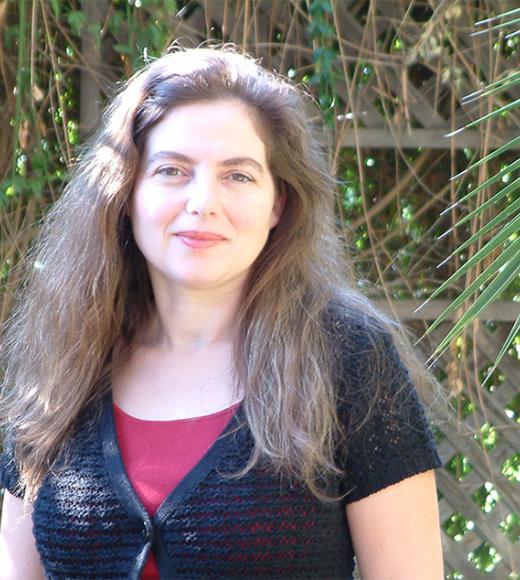 Faculty
Plant Sciences Executive Committee - At-Large Representative
210 Asmundson
UC Davis, One Shields Ave, Davis CA 95616
Bio
Education: 
Ph.D., University of East Anglia/ John Innes Center, UK; Plant Biology, 2002

M.S., Mediterranean Agronomic Inst. of Chania, Greece; Plant Molecular Biology, 1997

Bsc., Aristotle University of Thessaloniki, Greece; Plant Physiology, 1995
Research interests and expertise: 
Our research focuses on endomembrane trafficking in plant cells, in particular how trafficking pathways control cell wall biosynthesis, polysaccharide deposition and plant stress response. Dr. Drakakakiís group employs multidisciplinary approaches: chemical genomics (the use of small molecules), organelle proteomics, and glycomics and genetics.
Current projects: 
Our research focuses on endomembrane trafficking in plant cells. We are particularly interested in trafficking pathways involved in polysaccharide deposition and plant stress response.

During plant cytokinesis, a process fundamentally different from cytokinesis in animals, de novo formation of a cell plate that is maturing into a new cell wall partitions the cytoplasm of the dividing cell. In a chemical biology approach, we identified and characterized the small molecule Endosidin 7, which specifically affects cell plate maturation. Using ES7 as a tool, we dissect various mechanisms that control plant cytokinesis with a broad range of multidisciplinary approaches. Recently, we developed 4D in vivo imaging methodologies towards determining the spatio-temporal distribution of vesicles contributing to cell plate formation. Ultimately, our goal is to develop a comprehensive spatio-temporal model of cell plate formation during plant cytokinesis.

Using a combination of vesicle proteomic/glycomic analyses we characterized both protein and polysaccharide cargo transported through the trans-Golgi network vesicles. Many new components/players in the vesicle proteome and glycome of SYP61 vesicles were identified and we are currently investigating their biological role in plant development and plant stress response.

Further, we have developed a series of imaging tools and methodologies for the detection of sodium, potassium and chloride at the subcellular level in woody plants. Our efforts are assisting in the characterization of complex mechanisms that control salinity and drought stress towards the identification of elite genotypes in woody plants.
Current teaching: 
Higher Plant Cell Walls; PBI 214 (fall quarter)

Plant Metabolic Processes LaboratoryñCell Biology/Cellular Dynamics; PLS 100AL (fall quarter)

Cell/Developmental BiologyñCell Biology; PBI 200B (winter quarter)

Plants and Society; PLS 12 / SAS 12 (winter quarter)

Faculty seminar series; PBI 290A (winter quarter)                                                   
Outreach and Extension:
We have been introducing concepts and applications of our research projects in woody plants to the pistachio and almond commodity board, farm advisors, growers, and local industry in California.

In our outreach activities, we are teaming up with local high schools. In guest lectures and workshops we are introducing confocal microscopy and chemical genomics to a wider audience. In the last years we offered workshops to Woodland High School (WHS) students and teachers, during which the participants became familiar with the scientific method and our research program on endomembrane trafficking and chemical genomics.

Workshop participants performed basic experiments examining protein localization with confocal microscopy. This was followed up with a number of guest lectures and Q&A sessions about scientific research at on site at Woodland High.

Our outreach activities extended to guest lectures and demonstrations to the Marguerite Montgomery Elementary School, San Marin High School science fairs, local science venues and science communication forums

Our graduate students contribute to scientific literacy in the community through involvement with the science communication group, Science Says ó a group of early career scientists aimed to distill to demystify scientific research for the public.

We regularly host students, within the framework of the Young Scholars Program or through collaboration with local high schools, for a research experience internship in which the students shadow experienced scientists and run their own mini-projects.
External activities that contribute to scholarship:
Sino-Australia Plant Cell Wall Research Center, Scientific Advisory Board Member

Kentucky, National Science Foundation EPSCoR, External Advisory Board Member

Hellenic Quality Assurance Agency of Higher Education, Member

Plant Biology Graduate Group, Chair Mentoring Committee

Plant Biology Graduate Group, Graduate Student Adviser
Prizes, Awards, Honors:
Greek Diaspora Fellowship, Stavros Niarchos Foundation, 2016

Excellence in Education Finalist, College of Agricultural and Environmental Sciences, 2014

Hellman Fellowship, 2012
Keywords:
Endomembrane trafficking

Plant cell wall

Chemical biology

Cellular dynamics

Endomembrane proteomics

Endomembrane glycomics

Plant physiology

Plant molecular biology

Genomics, genetics

Plant stress response

Plant biotechnology

Biofuels, Bioenergy
Tags