The California Tree Mortality Data Collection Network — Enhanced communication and collaboration among scientists and stakeholders
An article in the new issue of California Agriculture addresses how critical research and dialogue are underway to understand the consequences of the massive wave of tree mortality in the Sierra Nevada.
Over 147 million dead trees were detected in California by the U.S. Forest Service from 2010 to 2018. The massive tree mortality, mostly in the Sierra Nevada and evident in swaths of conifers with red needles, resulted from the 2012–2016 drought and subsequent explosions in native bark beetle populations. While levels of mortality have declined in the last 2 years, the consequences will last for decades to come. Trees that died will fall over and surface fuel loads will increase — already the accumulation of millions of tons of dead material on forest floors is vastly outpacing the resources of local, state and federal jurisdictions to remove it. Urgent dialogue has started among UC scientists, forest managers, and public agencies to manage the consequences of the unprecedented tree die-off and increase the resiliency of forests to future droughts.
Derek Young, a postdoctoral researcher in Andrew Latimer's lab, Department of Plant Sciences, UC Davis, is an author on one of the studies related to the effects of thinning on tree mortality.
Studies in this article include:
Mortality and regeneration study, 283 plots on eight sites, in mixed-conifer elevation bands, north to south Sierra Nevada

Effects of thinning on tree mortality along a latitudinal gradient in forests on National Forest, National Park and Bureau of Land Management lands

Study in high-mortality areas, at three elevational bands, in the Eldorado, Stanislaus and Sequoia National Forests

Vegetation and fuels monitoring study plots on Sierra and Los Padres National Forests in areas of high and low tree mortality

Study on how recent tree mortality has influenced wildfire severity in forests that historically experienced frequent fires, 180 plots on the 2015 Rough fire (150,000 acres) and 2016 Cedar fire (30,000 acres) in the southern Sierra Nevada

Field-based inventories conducted by the USFS Forest Inventory and Analysis Program (FIA), 2,800 plots (one for every 6,000 acres) on California forests, all ownership types

Examined historic research on western pine beetle (WPB) lifecycle timing, numbers of generations and winter temperature data; in 2017 conducted field-based monitoring of WPB to compare to historical baseline

Mapping standing dead tree biomass with remote-sensing technology, determining how much of it could be feasibly harvested for energy, estimating harvesting and transporting costs

Developed eDaRT (Ecosystem Disturbance and Recovery Tracker) to generate forest disturbance maps and provide customized data products and information services to forest managers, ecologists and wildlife biologists
Read the full California Agriculture article here.
Links to related research by Derek Young, Andrew Latimer, and researchers in the Latimer lab at UC Davis:
(Article compiled by Ann Filmer, Department of Plant Sciences, UC Davis.)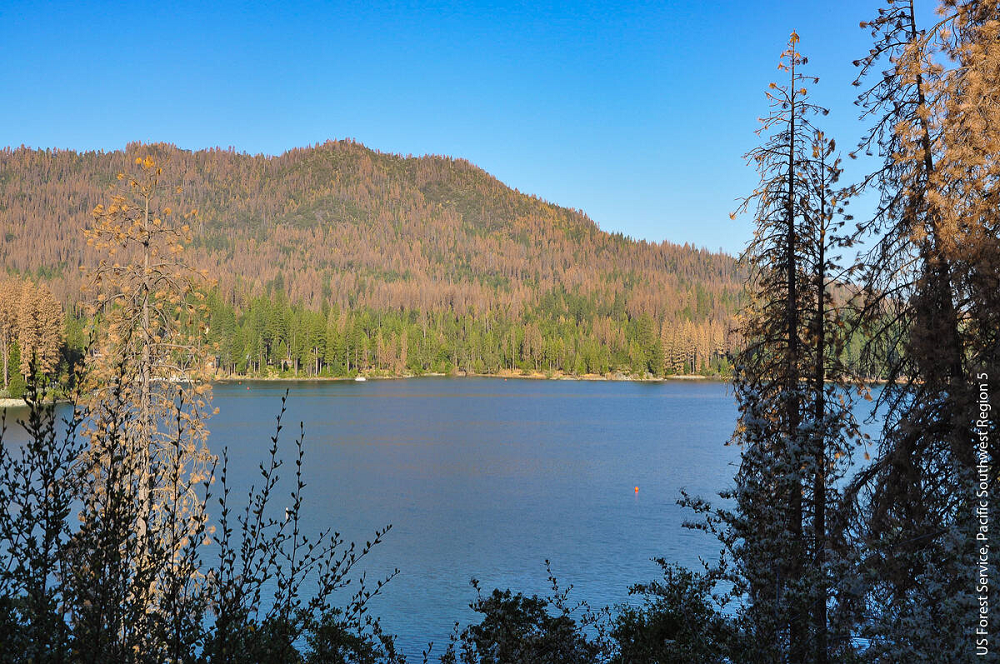 .
Primary Category
Tags