Dubcovsky recognized with Meyer medal for advancing wheat breeding
New varieties adapt to new needs
Jorge Dubcovsky and researchers in his lab have been recognized for providing basic genetic information about wheat and improved germplasm that is being used by scientists around the world to improve "the staff of life." Those efforts are bringing new varieties of wheat to farmers adapting to new conditions. For his leadership in those efforts, Dubcovsky was awarded the Frank N. Meyer Medal for Plant Genetic Resources, and a $2,000 prize, at the recent annual meeting of the Crop Science Society of America.
The award recognized Dubcovsky's "contributions to the plant germplasm collection and use in the U.S. and his dedication and service to humanity through collecting, evaluating or conserving earth's genetic resources," the CSSA said.
Dubcovsky, a distinguished professor in the UC Davis Department of Plant Sciences, was lauded for strengthening collaboration among researchers, bioinformaticians, breeders and germplasm banks across the United States, the CSSA added. By characterizing the natural variation in some key wheat genes, and by making that genetic information publicly available, his lab continues to spark research by others. That work has led to "about 300 papers that have been cross-referenced more than 40,000 times, documenting the impact of his research," the CSSA reported. The result is improved strains of wheat that are either more nutritious, more productive, more resistant to pests and disease or more adapted to a changing climate and other environmental challenges.
As a part of their work, Dubcovsky Lab researchers have looked specifically for genes that make wheat tolerate frost and variation in winter temperatures, resist a fungal disease called rust, and produce more nutritious grains.
"A continuous breeding effort is required to develop more productive and nutritious wheat varieties that are resistant and adapted to a changing environment," Dubcovsky said.
Around the world, people get about 20 percent of their protein and calories from wheat, and as population grows, people's demand for wheat is expected to rise half-again in the next 30 years, according to the CGIAR Research Program on Wheat.
Public database with 10 million mutations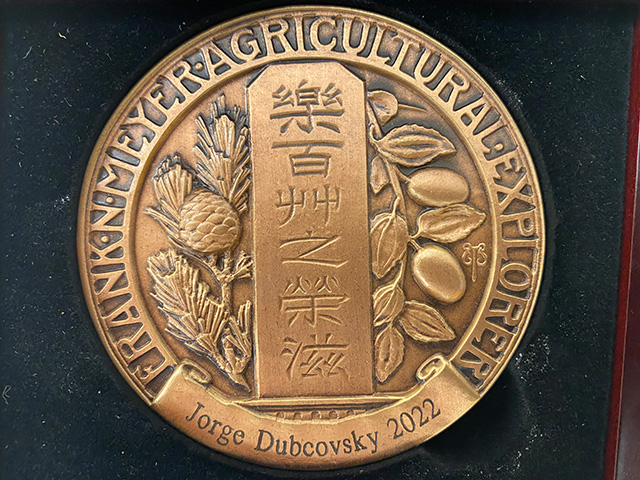 Dubcovsky's group sequenced the coding and regulatory regions of most wheat genes in a large population of mutagenized wheat plants, leading to a publicly accessible database. It contains more than 10 million sequenced mutations that can be used to understand the functions of different wheat genes and to generate novel and useful variations. Genetic information from this collection has been used already to develop lines of wheat with larger grains, more fiber and reduced allergenic properties.
Dubcovsky directs the University of California's small grains breeding programs for wheat, barley and oats, and releases public, commercially available wheat and barley varieties and germplasm used in California. He is a Howard Hughes Institute researcher and a member of the National Academy of Science.
The Frank N. Meyer Medal for Plant Genetic Resources is named after a man who worked as an agricultural explorer for the former U.S. Office of Foreign Seed and Plant Introduction. Meyer died in China while collecting germplasm there. The office is now part of the U.S. National Plant Germplasm System, a collaborative effort to safeguard the genetic diversity of agriculturally important plants. The NPGS is managed by the Agricultural Research Service, the in-house research agency of the U.S. Department of Agriculture.
Deposits at the National Plant Germplasm System
The Dubcovsky Lab has deposited the following wheat germplasm and varieties in the NSGS:
Varieties (22)
13 common wheat, 5 durum wheat, 2 barley and 2 triticale.
Germplasm (74)
Lr47

introgression lines: PI 638738 - PI 638742,  PI 603918, PI 603919,

Soft allele from T. monococcum 5AmS: PI 651012

GPC-B1

and Yr36: PI 656793 and PI 664549

SbeII mutants tetraploid

:

PI 670159-PI 670161

SbeII mutants in hexaploid wheat

: PI 675644-675647

FT-B1

: PI 671995 - PI 672004 9 lines.

1RS

: PI 672837 - PI 672839;

GPC-B1

mutants: PI 673410 - PI 673415.

Glu-A3

& Glu-B3 alleles

: Ten isogenic lines PI 674000 - PI 674009.

Gw2

mutants grain size

: PI 675010-675015.   

Glu-D12+12

isogenic lines in durum wheat: PI 672996, PI 672997, PI 672998.

Synthetic vrn2-null

PI 676269.

Rht-B1E529K

intermediate height: PI 687144,

Sr60

introgression: PI 689563.

Glu-B1x

mutant

: PI 692251, Glu-B1y:  PI 692253, Glu-B1x Glu-B1y double mutant: PI 692252.
Mutants vrn1 vrn2: PI 698812, ful2 vrn2: PI 698814, ful3 vrn2: PI 698815, vrt2: PI 698811, svp1: PI 698813.

Wapo-A1b

allele (haplotype H2) introgression Kronos

: PI 698810.

FT-A2

A10 allele introgression into Kronos

: PI 699107.

SrKN (Sr9e) introgression in Fielder

: PI 700734. Sr22b introgression in Fielder: PI 700735
Media Resources
Trina Kleist, tkleist@ucdavis.edu, (530) 601-6846
Primary Category
Secondary Categories
Tags