Poudel wins AAUW International Fellowship
Isha Poudel has been awarded a fellowship by the American Association of University Women. Poudel is a second-year master's student in the UC Davis Department of Plant Sciences majoring in international agricultural development, with a focus on gender equities and disaster resiliency in food systems. She is in Amanda Crump's research lab group that focuses on agricultural equity and social inclusion.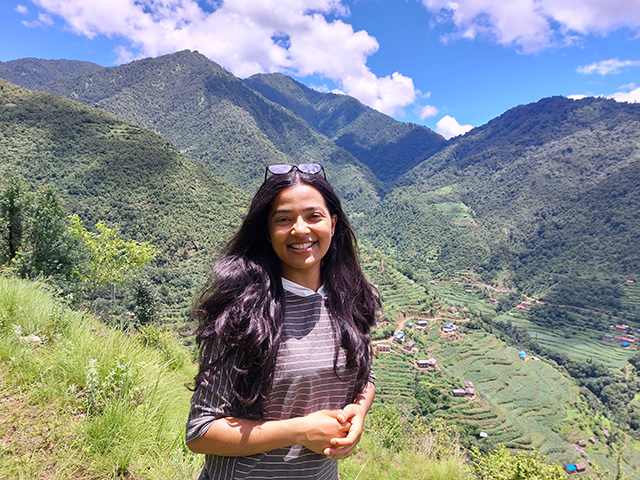 The AAUW award will support Poudel in her graduate education and further advance her research project in Nepal.
"I have come a long way breaking multiple stereotypes and navigating a series of power and privileges in pursuit of higher education. So, in addition to my career goals, I hope to contribute to building a more accessible pathway for other individuals from less privileged backgrounds." Poudel said.
Before coming to UC Davis, Poudel worked in Nepal on food security issues. "I spent more than five years working with youth and women farmers in grassroots level, and it gave me an opportunity to closely observe and witness the impact of climate change in the farming communities particularly among women and marginalized groups," Poudel said. "The relationship of disasters, food security and agency of women from farming communities is much more complex, given the intersectionality and heterogeneity of socio-cultural systems. There is a large gap in climate change-related research on the vulnerable groups."
Under Crump's mentorship, Poudel is complementing her technical skills in agricultural science with a critical lens on social systems and examine the interrelationship of disasters, food security and gender equities.
Poudel intends to pursue her career as a research scholar and development practitioner with expertise on gender equities and climate change-related disaster and risk management in agriculture projects with women and other marginalized groups from low-income nations.
Legacy of 141 years of women's educational achievement
The AAUW is providing $6 million in funding to more than 320 fellows and grantees in the 2022-23 award year. Poudel is among three international graduate students from University of California, Davis, receiving the award this year.
"As an international student, I am beyond honored to be receiving this fellowship from such a prestigious institution such as AAUW," Poudel said. "It has not been an easy journey trying to pave my own path into graduate education, but with awards like these, I have one less thing to worry about concerning my financial burden. And, it's one more reason to motivate myself to work towards my goal. I'm even more excited to be a part of a 141-year-old network of amazing women scholars who've all contributed to closing the gender gap throughout the world."
Related links
Learn more about graduate studies in international agricultural development.
Read more about the work of Amanda Crump, an associate professor of teaching in the Department of Plant Sciences, and the Research Group on Agricultural Equity.
Read more about Poudel on the AAUW website.
Learn about the AAUW fellowship program.
Primary Category
Secondary Categories
Tags