Kassama, Student & Macconnell grow their professional skills
Grad students to get intensive coaching through Launching Tomorrow's Leaders
This fall, three graduate students from the Department of Plant Sciences will start cultivating their confidence and growing the soft skills needed to bear their best fruit as professionals. Joseph "Zeke" Student, Madeleine Macconnell and Sire Kassama will work with professional leadership and business coaches, nourishing their ability to lead, collaborate and communicate, through the Launching Tomorrow's Leaders program.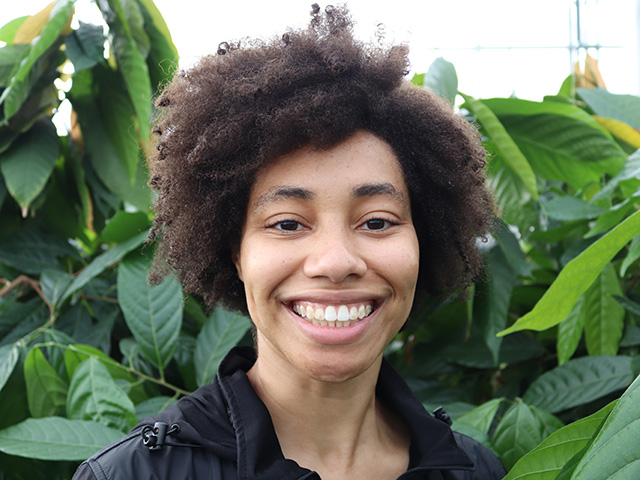 The intensive, 11-week course was offered by the UC Davis College of Agriculture and Natural Resources to 16 graduate students across the college. It aims to transform students into confident, collaborative professionals who will yield even greater results.
"The LTL program is an opportunity for me to explore my strengths in the workplace outside of my technical skills and leverage those strengths with a team of scientists," explained Ph.D. candidate Kassama.
"I am excited to get a chance to grow, understand more about myself and learn how best to apply my strengths in a professional setting," said Student, who is seeking a master's degree.
"This program looks like a great way to get to know my own strengths in leadership and improve many of the background skills required to work effectively," added Macconnell. She is earning a doctorate and plans to continue research in plant development.
All three students will get growth opportunities in spades. For the duration of the fall quarter, they will participate in one-on-one coaching and small accountability groups, practice making presentations and learn from people in the program's alumni network. They'll come out of the program with better communications, networking and time management skills and a keener ability to focus on critical priorities.
Mentored and nominated by faculty
Student and Macconnell work in the Melotto Lab. "I am so proud to see these young scientists preparing themselves to be the future leaders in the field. I am honored to be their mentor," said lab Director and Prof. Maeli Melotto,
Kassama works with Adjunct Prof. David Mackill. "Sire has really excelled in her graduate coursework at UCD and in her very challenging thesis research on cacao," Mackill said. "I am sure she will be a great addition to the LTL program, which will nicely complement her academic work."
The LTL program can help participants improve common workplace interactions such as asking for help and resources, creating cooperative networks with co-workers, and managing the surprises that can delay one's work flow, Melotto added.
Astrid Volder, a professor and chair of the department's graduate group in horticulture and agronomy, nominated the students.
Launching Tomorrow's Leaders is led by the leadership coaching and consulting firm Bonsai, which focuses on STEM professions. The college also is partnering with Bayer Corp. to offer the program.
Tags