Measuring Leaf Water Status: Tom Buckley Receives Seed Grant for International Partnership
Tom Buckley, professor in the Department of Plant Sciences, UC Davis, received a 2018–2019 Seed Grant from UC Davis Global Affairs for the project "Applying a Revolutionary New Method to Measure Leaf Water Potential in Intact, Functioning Leaves."
Global Affairs partners with UC Davis faculty to take on global innovative research, service, and engagement projects. The interdisciplinary projects help develop new partnerships, long-term collaborations, and opportunities to advance the health for people, animals, and the planet.
Buckley will work colleagues Andrew Merchant (University of Sydney, Australia) and Carel Windt (Forschungszentrum Jülich, Germany), who will visit his lab in 2019 and 2020 to set up a benchtop NMR system that measures leaf water content in real time, on intact, photosynthesizing, and transpiring leaves. They will use the system to make repeated measurements of water potential on intact, transpiring leaves for the first time, to resolve important questions about how water potential affects parameters of leaf function such as hydraulic conductance, photosynthetic capacity, and stomatal conductance.
"The questions we're hoping to answer involve fundamental features of how photosynthesis and water loss are affected by water stress in living plants," said Buckley. "To date, we have only been able to address these questions using destructive methods that combine measurements on active and inactive leaves and cannot be repeated on the same leaf.
"The knowledge obtained with this technique will greatly improve our confidence in inferences about how water stress affects these key traits," he added. "This in turn will help us select better plant varieties for future climate conditions and make more confident predictions of how climate influences plant–atmosphere exchange of CO2 and water."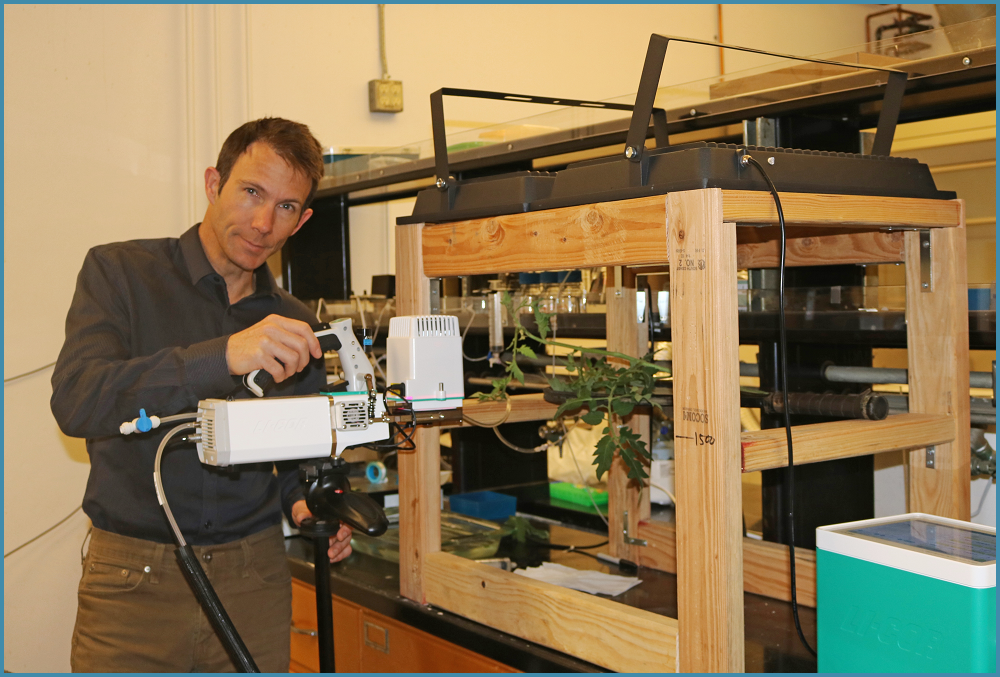 Buckley plans to leverage the experimental results into major external funding, and further develop their international partnership.
The Global Affairs Seed Grants for International Activities has awarded funding to over 205 UC Davis programs in the last several years.
Past 'Seed Grant' projects funded to the Department of Plant Sciences:
Allen Van Deynze, Kent Bradford

: The African Orphan Crops Consortium (Africa); 2013

Jim Hill, Alan Bennett

: Achieving International Agriculture Development through Scientific Exchange Opportunities between UC Davis and Latin America and the Caribbean; 2012

Carlos Crisosto, Ted DeJong

: Promoting Lifelong Learning and Academic Engagement in Fruit and Nut Tree Agriculture; 2012

Diane Beckles

: Strengthening Research and Educational Opportunities for Postharvest Biology between Kasetart University and UC Davis (Thailand); 2011

Johan Six

: Engaging Farmers and Building Local Capacity to Enhance Soil Functioning and Food Security through Conservation Agriculture in Chiapas, Mexico; 2011

Chris van Kessel, Bruce Linquist

: Collaborative Research to Reduce the Carbon and Water Footprint of Rice in Mediterranean climates (Italy); 2011

Valerie Eviner

: Linking Agricultural Livelihoods and Conservation Priorities in Costa Rica: Collaboration between UC Davis and the CATIE for Tropical Agriculture Research and Education; 2008

Kent Bradford

: Investigating the Establishment of a UC Davis Seed Biotechnology Center in Chile; 2007

Marita Cantwell

: Focus on Postharvest Practices and Food Safety Issues for Small-scale Specialty Vegetable Growers in China and California; 2007

Johan Six, Steve Fonte

: Advancing Soil Conservation Research through Enhanced Stakeholder–Researcher Interaction in Rural Honduras; 2007

Valerie Eviner

: Linking Science and Management in Restoration Projects: Training Students through a U.S.–China Collaboration; 2006

Jim Hill

: Enhancing Rwanda Research and Technology Transfer Capacity to Sustain Increased Productivity and Competitiveness in Food Crops: A Collaborative Effort of the Government of Rwanda and UC Davis; 2006

Johan Six

: Technology Transfer and Engagement for Integrated Soil Fertility Management in Ghana; 2006

Shu Geng, Dennis Pendleton

: Development for UC Davis Extension and Alumni Association Programs in China; 2005

Jim Hill, Cary Trexler, Elizabeth Mitcham

: Collaborative Agricultural Research and Development (CARD): Next Steps in the UC Davis and Can Tho University Partnership (Vietnam); 2005

Patrick H. Brown

: UC Davis–Wageningen University Partnership Program in Plant Sciences, sustainable Agriculture, Food Sciences, and Environmental Sciences (Netherlands); 2004

Roger Chetelat

: Collaboration between UC Davis and Asian Vegetable Research and Development Center (Taiwan); 2004

Daniel Potter

: International Meeting of Sapotaceae Researchers (Costa Rica); 2004

Daniel Potter, Jeanine Pfieffer

: Biodiversity Research and Conservation in Southeast Asia: A Regional Convention to Develop UC Davis Research Partnerships and Student Internships (Indonesia, Philippines); 2003

Jim Hill, Patrick H. Brown

: Can Tho University Partnerships (Vietnam); 2003

Calvin O. Qualset

: Exploring a New Paradigm for Agricultural Development: Lithuania; 2002

Patrick H. Brown

: Partnerships in Education and Research with Zhejiang University (China); 2002

Shu Geng

: Build a New Partnership with Chinese Academy of Agricultural Sciences Through a Research Collaboration on Water Resource Management (China); 2002
(Article by Ann Filmer, Department of Plant Sciences, UC Davis)
Primary Category
Tags