China can both reduce nitrogen pollution and feed its people
Plan balances costs and benefits of fertilizer for small-scale rice farmers, Cameron Pittelkow says
China's small-scale rice farmers hold the key to both feeding their nation and reducing nitrogen pollution by 2030, benefiting soil, water and air quality and slowing climate change. A research team, including Cameron Pittelkow of the UC Davis Department of Plant Sciences, has published a strategy for how to do that, in the March 2 edition of Nature.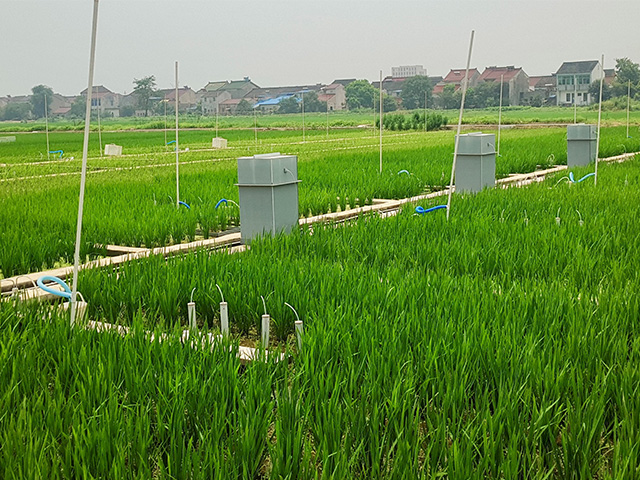 China produces nearly 30 percent of rice globally and, in the process, consumes large amounts of nitrogen fertilizer, making it a hotspot for nitrogen-related pollution. The scientists developed a national strategy for getting the most out of the least possible fertilizer, taking into account both nitrogen's benefits for crop yield and its costs for environmental sustainability. They also considered the vast differences in conditions farmers face, identifying sub-regions with disproportionate impacts and minimizing trade-offs for the nation's food security.
"Nitrogen pollution is an urgent threat to ecosystems across the world. Food systems of the future must account for the externalities associated with fertilizer use – especially for staple crops like rice, wheat and maize – and this is a step in that direction" said Pittelkow, an associate professor.
To increase the chances that future nitrogen-reduction strategies would work, the researchers did something few have done: They assessed the risk to farmers who might hesitate to adopt new methods or who might see a decline in yield if they were to reduce fertilizer use. Importantly, the researchers found it's possible to keep nitrogen pollution below national targets, without compromising either economic benefits for smallholders or national food production. Government subsidies, fertilizer quotas and a monitoring system that provides up-to-date information about fertilizer needs are suggested as next steps to support implementing the strategies.
Problem: How much is enough?
Plants need nitrogen to grow well, but too much in agriculture – usually in the form of fertilizer – pollutes water supplies and creates gaseous ammonia, harmful to people and animals, and nitrous oxide, a greenhouse gas. The problem is big in China, where rice grows on around 30 million hectares of land, small farmers dominate production, and nitrogen use is inefficient.
To capture nitrogen's wide-reaching impacts, new efforts are accounting for damage to human and ecosystem health resulting from fertilizer use. This approach helps maximize the benefits for society by considering crop yields and farm-level economics, while actively preventing pollution.  
Chinese officials are eager to address this conundrum as they seek to produce enough rice – an estimated 218 million metric tons yearly – for the 1.5 billion residents projected by 2030, when food demand is expected to peak.
Less fertilizer, less pollution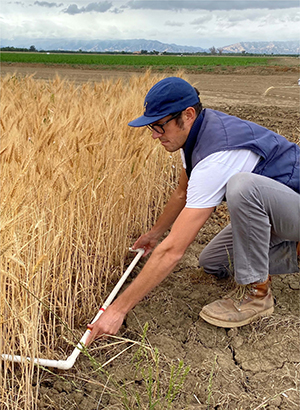 To tackle the problem, researchers with the Institute of Soil Science of the Chinese Academy of Sciences, China Agricultural University, University of Maryland Center for Environmental Science and UC Davis gathered existing data for crop yields and nitrogen losses for rice systems in China. They then estimated national rice production, fertilizer use and nitrogen loss under two nitrogen regimes: one that prioritizes maximum economic profitability and another that also incorporates the costs of environmental and human health damage related to fertilizer use.
Results point to a win-win. Under the two strategies, nationwide nitrogen fertilizer consumption was projected to decrease by 10 to 27 percent, environmental nitrogen losses would decline 7 to 24 percent, and nitrogen use efficiency would increase 30 to 36 percent, while still producing enough rice by 2030.
"Nitrogen fertilizer is critical for food security, but it also represents an incredible dilemma," Pittelkow said. "There is a lot of excitement around new ideas and policies for proactive management to avoid negative impacts on human health and the environment, without risking food security. There is a clear need for this type of analysis in other regions."
Agriculture elsewhere in the world also could benefit from a collective approach to reducing nitrogen pollution, Pittelkow said.
"The costs of nitrogen use to ecosystem and human health in U.S. agriculture are not typically accounted for, despite representing around $157 billion per year in the early 2000s," Pittelkow added. "In the E.U., it's been estimated that the damages of agricultural nitrogen pollution exceed the economic benefits of increased crop productivity. There is a ton of work in this area right now, and no one has it figured out. We need creative solutions that engage farmers, agri-food supply chains, policy-makers, scientists and society at large."
Related links
Read the full article: Cai, S., Zhao, X., Pittelkow, C.M. et al. Optimal nitrogen rate strategy for sustainable rice production in China. Nature 615, 73–79 (2023). DOI: 10.1038/s41586-022-05678-x
Media Resources
Trina Kleist, Department of Plant Sciences, UC Davis, tkleist@ucdavis.edu, (530) 754-6148 or (530) 601-6846.
Primary Category
Secondary Categories
Tags