Wheat Growers Had Control of Stripe Rust This Season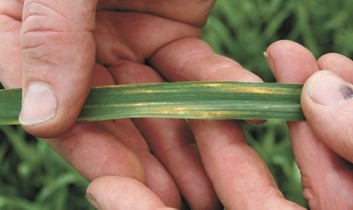 Wheat stripe rust was largely manageable again this year, but growers are cautioned to only plant varieties with two resistance genes in order to preserve their effectiveness.
When varieties are planted with only one of the two resistance genes, Yr5 and Yr15, the rust disease can overcome that resistance relatively quickly.
"We have lost 40 or 50 resistance genes in the past by using only a single gene," said Jorge Dubcovsky, University of California, Davis, professor of plant sciences and wheat breeder, during the annual UC Davis Small Grains Field Day. "I ask growers to use varieties that have both genes, or neither one."
Varieties with superior disease resistance, developed after an epidemic of stripe rust wiped out a quarter of the state's wheat crop one year early this century, continue to keep the disease at bay.
"People did pretty well with stripe rust if they planted varieties with resistance," Dubcovsky said. "Every year, we send samples to the lab in Washington. The two major races this year are the same as last year. That's good news."
There are two, and only two, genes that give complete resistance to this disease, and the best way to preserve this resource is to plant varieties with the number 515, which signifies that both the resistance genes are present.
"The good news is that Yr5 and Yr15 are resistant to all the races of stripe rust in California," Dubcovsky said. "The bad news is those are the only two genes that do that. The best way to preserve them is to use them together."
Doctoral students at the field day presented their finding on efforts to discover additional sources of resistance that could be bred into wheat varieties, giving growers greater security.
"I am working to find the rust resistance genes that we can move into the breeding program," said Nicolas Cobo, UC Davis doctoral student. "We found one gene that gives partial resistance, and there is another gene from Australia. We're working to combine these genes, to pyramid them."
Plant breeders are also working to incorporate both the Yr5 and Yr15 resistance genes into all of the UC wheat varieties.
Foundation seed is available, for example, for Patwin 515 HP, which is a hard white variety with both sources of rust resistance, and a gene that adds about 1 percent to the protein content by moving more nitrogen from the leaves to the grain.
Use of the resistant varieties has largely allowed growers to produce quality wheat crops without using fungicides.
"This year has been good for wheat," Dubcovsky said. "The grain is uniform and the acreage is about the same, 400,000 acres."
The one thing most likely to upset that apple cart would be for growers to plant wheat with only one of the resistance genes, because stripe rust has an extraordinary capacity to overcome single-gene resistance.
"Last year we know people planted 170,000 acres of Joaquin Oro, which only has the Yr5 gene," Dubcovsky said. "They are not very good neighbors."
(Article by reporter Bob Johnson, bjohn11135@aol.com. Reprinted from AgAlert, June 22, 2016, California Farm Bureau Federation, http://www.agalert.com/story/Default.aspx?id=9911 )
Primary Category
Tags