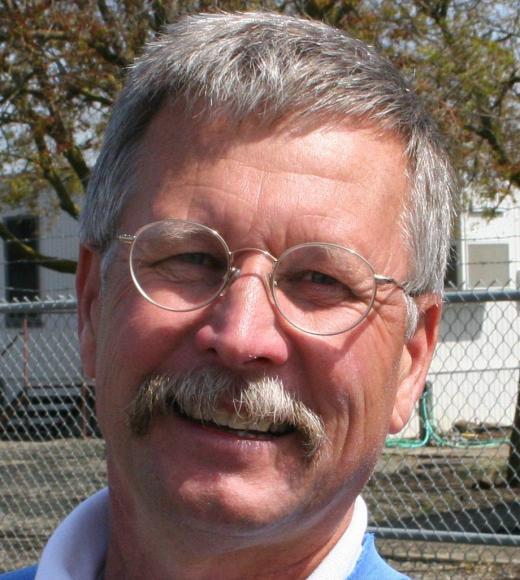 KEARNEY AG
UC Davis, One Shields Ave, Davis CA 95616
Bio
Education:
Ph.D., University of California, Davis; Plant Biology, 1995

M.S., University of California, Davis; Vegetable Crops, 1988 

B.A., Occidental College, Los Angeles; Philosophy, 1974
Research interests and expertise:
Improving nitrogen and water use efficiencies in food, feed, fuel and fiber cropping systems, soil quality management and potential roles of cover crops and compost in intensive row crop production systems, and the use of cover crop mulches as a means of conserving soil water, suppressing weeds and increasing organic matter in no-till production systems. 
Conservation agriculture and precision irrigation crop production systems

Agricultural water management

Reduced disturbance, climate-smart, healthy soils production systems

Merging precision irrigation and conservation agriculture practices

Improving production efficiencies in terms of profitability, energy and water use and long-term soil resource quality

Development of conservation tillage and precision irrigation production systems

Carbon sequestration

Assessing and indexing management impacts on soil quality
Current projects:
Train a new generation of California vegetable producers and increase effective stewardship practices in vegetable production systems. Projections for near-future retirements of Californiaís ag production, marketing, and postharvest handling sectors indicate severe re-staffing needs. Vegetable crop production instructors from four California universities will 1) create a series of instructional videos on vegetable crop production systems that will be used to improve postsecondary student training, and 2) increase the number of trained graduates from California university horticulture programs with expertise in vegetable production.
Calif. Dept. of Food and Agriculture, Specialty Crop Block Grant Program, $299,736
Increase Water Use Efficiency and Drought Resilience in California Agriculture. Overall goal is to test whether long-term no-till, cover cropping and high-residue practices increase soil water infiltration, movement, storage, and overall water use efficiency, compared to standard tillage systems without cover crops or residues, and that modest soil water depletion by winter cover crops in the CV may actually support the long-term use of this practice as a means to increase farm water use efficiency.
Department of Water Resources; $299,000
Evaluation of trade-offs between winter cover crop production and soil water depletion in San Joaquin Valley vegetable crop fields.


A growing number of San Joaquin Valley farmers recognize the value of using cover crops, but are uncertain as to how the benefits are offset by the water use and cost of farming operations needed to grow a cover crop. This project will fill knowledge gaps and inform specialty crop farmers of the water-use trade-offs associated with cover cropping. Knowledge outcomes will be scalable to a wide range of SJV specialty crop farms and orchards and also provide a means for impact to be sustained if results bear out the hypothesis that cover cropping results in minimal soil water depletion relative to conventional fallows.


Calif. Dept. of Food and Agriculture; Specialty Crop Block Grant Program; $250,000
Secure the future of highly productive annual cropping systems in California.


Annual crop production systems in California provide 40 percent of the fresh produce for the U.S., as well as other crops of economic importance such as alfalfa, cotton, and silage corn. Stakeholders are concerned that the sustainability of these production systems is threatened by loss of soil function, decreased water availability, labor and fuel/energy costs, and environmental contamination including nitrate, dust, and greenhouse gas emissions (GHG). The work proposed here will use field comparisons to demonstrate the influence these innovative systems may have on soil health, GHG emissions and crop yields over time and it will provide an ambitious outreach program to increase awareness and adoption.


CDFA Healthy Soils Program $237,000
Multisite demonstration of conservation management practices for soil health and GHG emissions reduction.
We will demonstrate compost applications and cover cropping in Californiaís Central Valley to see if it improves soil health and function and reduced GHG emissions

.

We hypothesize that, in comparison to conventional systems, these carbon-adding production systems will improve soil function and reduce GHG emissions while maintaining or increasing yields. 
Calif. Dept. of Food and Agriculture, Healthy Soils Program, $250,000
Current teaching:
Vegetable Crop Production; PLS 110 (fall quarter, even years)

Principles of Agronomic Crops; PLS 111 (fall quarter, odd years)
Outreach and Extension:
Throughout California, there is increasing concern about degradation of soil function as evidenced by a lack of soil tilth resulting in the need for intensive tillage, as well as limited capacity for water capture, retention and movement. Stakeholder concerns indicate that new production paradigms are needed to reduce soil disturbance and enhance soil biological function in this region. The CASI Workgroup is a partnered effort to address this need for information on alternative climate-smart production systems that increase soil health.
The goals of CASI are to 1) develop and deliver information on the economic and environmental benefits of conservation agriculture  systems, 2) increase understanding and adoption of locally-appropriate conservation agricultural systems, 3) partner with national and international conservation organizations and serve as a clearinghouse for information on conservation agriculture systems, and 4) increase funding for conservation agriculture systems research, education, and adoption in California. We have pursued a high-visibility, multi-partner extension education and research program. 
A key long-term study has been ongoing at the UC Research and Extension Center in Five Points, California. The study compares no-tillage with and without cover crops, and standard tillage with and without cover crops, yielding information on the economics of no-tillage and cover crop systems, and benefits to soil function and emissions reductions. We have hosted a range of U.S. and international visitors whoíve shared with us their experiences with no-tillage and conservation agriculture.
In 2005, CASI instituted an annual recognition program for CT farmer and private sector innovators to honor pioneers of conservation agriculture systems in California and encourage widespread adoption of CT. 
Our CASI Workgroup has a major leadership role in working with diverse partners, including the Calif. Farm Bureau Federation, the Calif. Dept. of Food and Agriculture, the USDA Natural Resources Conservation Service, the Calif. Assn. of Resource Conservation Districts, and UC Cooperative Extension, in creating the California Farm Demonstration Network). The network connects people and information to improve production systems.
CASI received the 2018 Innovator Organization of the Year Award by the National No-till Farmer Association.
External activities that contribute to scholarship:
Associate editor, Crop, Forage and Turfgrass Management; American Society of Agronomy

Chair, Conservation Agriculture Systems Innovation (CASI) Center

Ph.D. and M.S. supervisor to more than 15 students
Prizes, Awards, Honors:
Western Extension Directors Association, Award of Excellence to CASI, 2018

National No-till Farmer Association, Innovator of the Year Award to CASI, 2017
Social media links:
Keywords:
Conservation agriculture

Precision irrigation

No-tillage

Strip-tillage

Overhead irrigation

Center pivot irrigation

Reduced disturbance

Cover crops

Adoption

Scaling up behavior change

Soil health

Soil carbon

Soil function

Water use efficiency
Tags