Trade ideas, seek collaboration: Rothamsted visit sparks scientific creativity
The creativity that sparks when people meet in person filled the halls at UC Davis' Department of Plant Sciences when an international team of scientists from Rothamsted Research, U.K., visited recently. Farm tours and presentations gave way to high-energy discussions of wheat genetics, soil management, grazing practices, climate change mitigations and opportunities for future collaboration.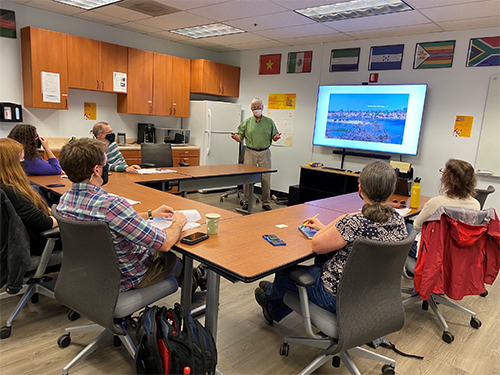 "Both California and the U.K. are committed to net-zero carbon emissions," said sustainability scientist Simon Willcock, who headed the Rothamsted delegation. He noted the two regions diverge in important ways – especially in precipitation and organic carbon in the soil. "If we can share what we learn and what we know and work to achieve carbon neutrality together, then we're creating models for the world's dry areas and also for the world's wet areas, which is a huge part of the planet."
Gail Taylor, department chair for Plant Sciences, welcomed the group with a discussion of the department's wide range of nearly 300 programs, including the nearby cultivation of 15 acres of poplars being grown at commercial scale for making jet fuel and biomass energy.
The Rothamsted visitors found fruitful areas of overlap, said molecular biologist Sarah Raffan. Livestock grazing systems expert Jordana Rivero-Viera said she appreciated making connections with other rangeland scientists across the globe. Visitors also enjoyed the freedom to discuss problems and dead-ends in their research. "Sometimes, that's even more useful!" said nitrogen cycling expert Alison Carswell.
Want to visit the Department of Plant Sciences?
If you would like to share scientific knowledge and information, arrange a visit with faculty and tour programs of the Department of Plant Sciences, contact the Global Engagement office, located within the College of Agricultural and Environmental Sciences. The office organizes a broad array of programs, faculty exchanges and study tours for groups from across the United States and more than 40 countries!
Contact CAESglobal@ucdavis.edu or (530) 754-0275.
Tags