Drought and herbicides: Rice Field Day showcases research
Linquist, Al-Khatib and teams discuss new varieties, pests, possibilities
New varieties of rice that offer more effective weed control with less herbicide were showcased by UC Davis Department of Plant Sciences researchers at the recent Rice Field Day north of Yuba City in California's Central Valley. Amid the West's ongoing drought, green rice with heads full of grain stood tall and lush in some test plots, while dry, brown stubble poked up in others. Department researchers discussed the impact of letting ricelands go fallow, including potential for pest control and ways to conserve soil moisture.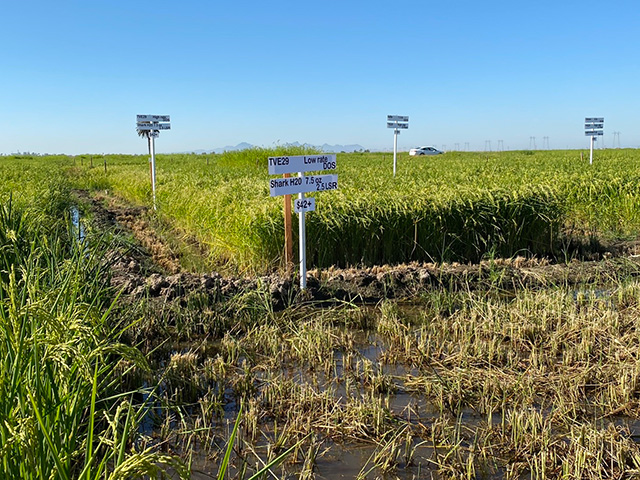 The event was hosted Aug. 31 at the Rice Experiment Station in Biggs by the California Cooperative Rice Research Foundation, Inc., which operates the station.
Rice grows in fields flooded with water, but this third year of drought has forced the state's farmers to leave fallow half of the approximately 500,000 acres typically dedicated to the grain, said Bruce Linquist, a professor of Cooperative Extension. That's up from 93,000 acres fallowed in 2021, according to figures from the state Department of Food and Agriculture. That year, California rice farmers saw more than $905 million in rice sales, according to the United States Department of Agriculture. Climate change, caused largely by people's use of fossil fuels, is making droughts more common and more severe in the American West and around the world.
Among other projects, Linquist and team are exploring the impacts of letting fields go fallow and whether farmers can go without tilling in the following season. By not tilling, farmers can conserve moisture in the ground, reduce tillage costs and plant sooner, the researchers have found. Other experiments comparing the use of nitrogen fertilizer and the possibilities for conserving water will continue next year, Linquist added.
New herbicides tested to reduce resistant weeds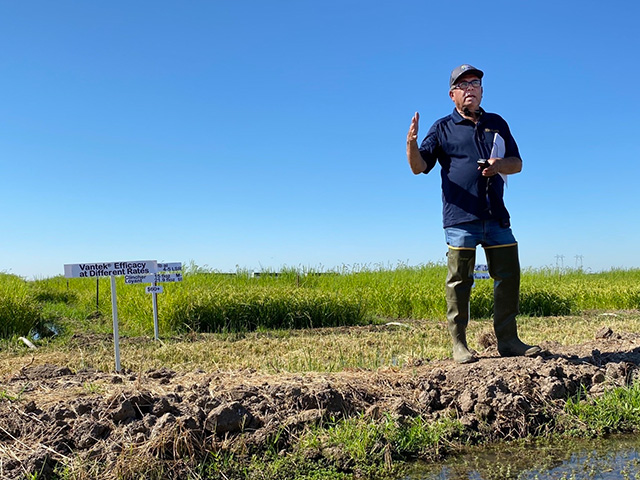 As growers fight weeds, the herbicides they typically use have prompted water grasses, sedges, broadleaf grasses and other weeds to become resistant.
TVE29 is one of several new herbicides being tested in response. Developed by FMC Corp., based in Philadelphia, the herbicide has proven effective in the field for controlling a range of resistant weeds, said Kassim Al-Khatib, the Melvin D. Androus Endowed Professor for Weed Science.
"It's probably the best herbicide we've ever tested," Al-Khatib added. The product is going through the process of approval for use by the U.S. Environmental Protection Agency, and it could become available to growers in a few years, he said.
Researchers also found TVE29 and other new herbicides work effectively in combination with existing products, with variations depending on local conditions. Al-Khatib encouraged the growers present during Field Day to apply herbicides at the right time for each product, and to use different herbicides in the course of the growing season, to avoid breeding herbicide-resistant weeds.
Details of the herbicide trials can be found in this hand-out, given to Field Day participants.
Lovely aroma, long grains, armyworms and more
Other researchers covered a wide variety of topics, including new varieties of basmati, jasmine, sushi, long- and short-grain, risotto and Calrose rice; control of weedy red rice, rice seed midge, tadpole shrimp, armyworm, stem rot, blast and other problems; and using wireless smart technology to detect problems in storage.
The Field Day program offers details of these and more research projects.
Related links
Find more information and resources about rice research in California at the UC Agronomy and Research Information Center for rice.
Media Resources
Trina Kleist, tkleist@ucdavis.edu, (530) 754-6148 or (530) 601-6846
Primary Category
Secondary Categories
Tags