Undergrad team lands in global top 5 for Urban Greenhouse Challenge
'Incredible experience' competing in the Netherlands
Team AggieCulture recently completed an incredible journey to compete in the finals of the Urban Greenhouse Challenge, held by Wageningen University in the Netherlands.
The opportunity started almost a year ago as a bold challenge to create holistic social impact in a District of Columbia food desert, presented by Heiner Lieth, a Cooperative Extension specialist and professor in the Department of Plant Sciences, to a handful of his lab students. Our proposal, "Living Gardens," envisioned a food system based on natural symbiotic growth models and decentralized modular vertical farming. Since then, our proposal has passed through two earlier Challenge rounds, stretching across UC Davis and the world.
In June, teammates Julia Dang, Ofelia Viloche, Tiffany Chen and I traveled to the Netherlands to compete in the Challenge finals at Wageningen University. Against very steep competition and great odds, we did what we could to put together something greater than I could have imagined.
We did not win the grand prize, but we landed among the top five teams in the world! We competed against more than 30 teams with more than 260 students and professionals from 20 countries. We were the only majority-undergraduate team, so to make the top five is quite an achievement!
Representatives from the co-hosting University of the District of Columbia and two judges spoke to me afterwards, commending our proposal as having some of the best concepts and attesting how difficult it was to choose the winner.
More than a competition
As much a competition among teams, the real challenge was within ourselves and the team itself. I've learned so much about new subjects, teamwork and staying outside my comfort zone. This challenge ultimately fostered a collaborative community to promote ideas at the forefront of agriculture, technology, sustainability, business, urban development, design, architecture, healthcare and social service. Based on the brilliant ideas, hard work and inspiring characters I've seen in Team AggieCulture and from other teams, researchers, organizations and businesses along the way, I can confidently say that I feel more hopeful about the future of our planet and the people in it.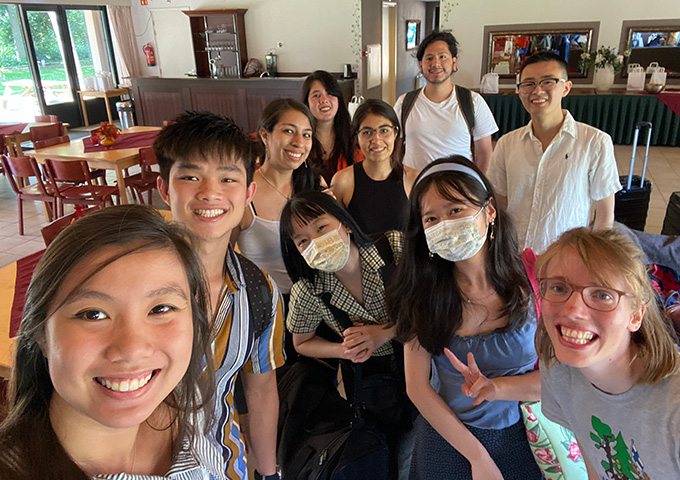 Before and after the challenge, we bonded and made connections with super-cool people from other teams, organizers and industry partners spanning four continents. We visited greenhouses and CEA facilities around the campus, where there is amazing research being done.
Outside of our time at Wageningen, we immersed ourselves in the vibrant Dutch culture by exploring museums, food, canals, nightlife, markets, flower auctions, renown Dutch industries, architecture (old and new) - and of course windmills - from Amsterdam to Haarlem, Aalsmeer, The Hague, Rotterdam, Utrecht and more. There is so much sightseeing, history and amazing agricultural, natural and urban engineering in this beautiful country. I will definitely return.
Furthermore, I still believe that our project, "Living Gardens," is achievable and impactful. I'm very excited to see the start of a new journey to greater heights, now that we have finally concluded the challenge.
To all who contributed to our success – whether you're a finalist team member, former team member, advisor or funder – I want to express my deep gratitude for contributing. I'm beyond proud of our efforts and honored to have worked with and been supported by such fine people and resources. It was a pleasure to represent UC Davis on the global stage and contribute to our reputation as one of the best at what we do.
This has been an incredible experience, which I will always keep in my heart.
- Editing by Trina Kleist
Media Resources
Trina Kleist, tkleist@ucdavis.edu, (530) 754-6148 or (530) 601-6846
Primary Category
Secondary Categories
Tags