Faculty Profile: Leslie Roche
Sustaining California's Rangelands
Leslie Roche, a new faculty member in the Department of Plant Sciences, is a Cooperative Extension specialist in rangeland management. She also has statewide responsibilities with Cooperative Extension in the UC systemwide Division of Agriculture and Natural Resources.
The overarching theme of her program is looking at rangelands as working landscapes to enhance multiple goals in both conservation and agriculture, and dealing with the challenge of balancing those goals.
"Right now I'm focusing on major issues like post-fire grazing and drought," says Roche. "Obviously wildfires are a huge issue in the state, as is drought. Adapting to drought, and working with ranchers on implementation strategies will help us all move forward."
Roche likes to work at the intersection of the social and the ecological components of these systems because they are very complex. Having grown up in a ranching family in Tulare and Fresno counties, with cattle and horses, she isn't one to shy away from partnering with ranchers and agencies such as the California Cattlemen's Association and the Bureau of Land Management to tackle environmental challenges throughout California.
"If we're not protecting the natural resources, that has a negative feedback on agricultural production," Roche said. When she's out in the field doing research, she typically works with county Cooperative Extension advisors, ranchers, and agency personnel. "It's very integrated and includes participatory research -- directly engaging the stakeholders in the research. That buy-in helps ensure that what I'm doing is relevant."
In this first year of being a faculty member, Roche has spent a lot of time travelling in California, making onsite field visits, and presenting workshops and field days with local county advisors across the state. She also presents at larger workshops, both in California and out of state. She is easily on the road three or more days in a typical week.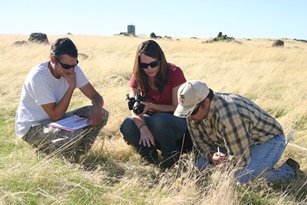 UC Rangelands -- Research and Information Center
When Leslie Roche started her position last year, she noted that online rangeland information was dispersed in many different places on the web, and she heard from Farm Bureau and Cattlemen's members that a single centralized information hub would be useful to them. She took that challenge, and with Ken Tate, also a Cooperative Extension rangeland specialist in the Department of Plant Sciences, they created the UC Rangelands portal.
UC Rangelands is one of the newest of the nine Research and Information Centers in the Department of Plant Sciences. Roche serves as director, and Tate is co-director.
They merged Tate's older California Rangeland Watershed Lab information into the new UC Rangelands site, along with Mel George's vast collection of information on the former California Rangelands site. They're well on their way to consolidating large amounts of rangeland information into one easily usable website -- UC Rangelands.
Cooperative Extension county advisors and faculty from other UC campuses are also part of UC Rangelands, and are contributing to the UC Rangelands Blog and the center's outreach programs.
A California Commitment
Leslie Roche is a Californian, through and through. Born and raised in California's ranching heartland, she went on to get three academic degrees at UC Davis -- a B.S. degree in agricultural management and rangeland resources; an M.S. degree in agronomy and horticulture; and a Ph.D. in ecology; all in the Department of Plant Sciences.
After being gently ribbed about her commitment to Plant Sciences at UC Davis, she proudly, but seriously, said, "Well, it's the best!"
While California rangeland management is her academic specialty, she has a strong penchant for bringing people together. She is connecting the statewide range of UC personnel working on rangeland management and related topics with the broad group of external stakeholders. She has made great inroads in this first year as a faculty member.
Looking Forward
Addressing California rangelands is Roche's first challenge, but, she says, "I'm looking forward, in a few years, to really connecting the California rangeland community to the broader range community in the U.S. We're seen as an island in California because our rangelands are so different from everywhere else. But the issues we're dealing with are now arising elsewhere in the U.S., so developing a two-way street in learning, both on rangelands and pasturelands, will help all of us build capacity."  
(Profile written by Ann Filmer, Department of Plant Sciences)
Primary Category
Tags