Plant Adaptation and California's Changing Environment
Gail Taylor spoke to a packed meeting at the UC Center Sacramento on "Plant Adaptation to Climate Change in California" on November 6, 2019. Professor Taylor is Chair of the Department of Plant Sciences, UC Davis. UC Center Sacramento educates future leaders in the craft of politics and policy-making through lunchtime seminars which are open to regional Sacramento policy-makers and the general public.
Taylor's talk focused on the impacts that climate change is likely to have on agriculture across California. Key findings from recent science literature, from many of her colleagues at UC Davis, and from California's Fourth Climate Change Assessment all show that the impacts of future change will be largely detrimental. Agriculture will be threatened by high temperatures, reduced seasonality, reduced water availability, more atmospheric carbon dioxide, and increased air pollution and threat of fire.
"Although California leads the world on climate change policy, with one of the first 'Cap and Trade' schemes to ensure users pay for greenhouse gas emissions of carbon dioxide, the future will still present significant challenges for California landscapes," said Taylor.
Beyond the obvious increased wildfire risks, agricultural yields will be reduced on average by around 15 percent. More importantly, for many of the fruit and nut tree crops widely grown across the state, the necessary 'chill days' required to ensure that trees have a correct dormancy period, will decline, with negative impacts on several key crops for California, including walnuts.
"Action is needed to ensure California remains committed to reducing greenhouse gases in the atmosphere," said Taylor, "but also in finding solutions to ensure a resilient future for agriculture."
Taylor addressed to the audience the top threats to California agriculture, along with mitigation strategies to adapt to climate change.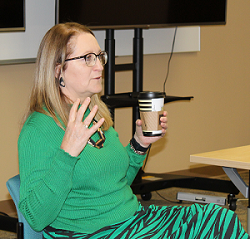 Additional Information
Professor Gail Taylor has a global reputation in Plant and Sustainability Sciences, and her research moves from molecular plant biotechnology through to ecosystem functioning. She is currently focused on molecular breeding approaches in high-value leafy greens such as watercress and aromatic herbs grown in indoor vertical agricultural systems, alongside her research on sustainable bioenergy systems.
 (Article by Ann Filmer, Department of Plant Sciences, UC Davis; November 8, 2019)
Primary Category
Tags