Seed Biotechnology Center – 20th Anniversary Celebration, and Annual Report
Seed Biotechnology Center 20th Anniversary Celebration, September 12, 2019
The Seed Biotechnology Center at UC Davis is celebrating its 20th anniversary this year. We're appreciating the past and looking forward. On Thursday, September 12, 2019 the SBC will host a day-long event with panels highlighting researchers, students, industry representatives and policy makers. The day will conclude with a special Seed Central monthly networking event celebrating the 10th anniversary (separate registration required).
Full event details and program schedule
Tickets for this free event https://ucdavis.co1.qualtrics.com/jfe/form/SV_9Eye8MP6xkRDYoJ
Seed Biotechnology Center – Annual Report 2018
The Seed Biotechnology Center at UC Davis has released its annual report for 2018. It is full of useful and interesting information, including sections on Education, Outreach and Public Service, Research, and People and Publications.
Professor and center director Kent Bradford gives the Welcome, with the theme "The SBC at 20: Celebrating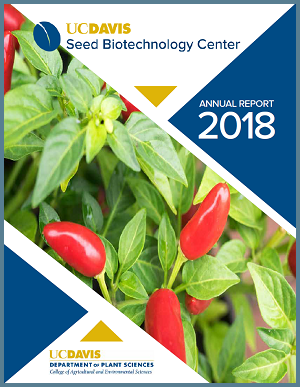 the past and anticipating the future."
Francois Korn, founder of SeedQuest and co-founder of Seed Central, writes the closing article, "Partnerships for the Future: Expanding the Success of the Seed Biotechnology Center through Seed Central."
Also included in the report is news about the Plant Breeding Academy, the African Orphan Crops Consortium, the center's many educational courses, Cucurbitaceae 2018 (global conference), Seed Central programs, and news about the World Food Center, the Plant Breeding Center, and much more.
Many thanks to report designer and editor Julie Tillman, and the entire Seed Biotechnology Center team, for putting together such a comprehensive annual report.
See the Annual Report here https://ucanr.edu/sites/sbc/files/307853.pdf
 (Article by Ann Filmer, Department of Plant Sciences, UC Davis; August 21, 2019)
Primary Category
Tags