UC Davis plant scientists receive $1.1M FFAR grant to develop heat-tolerant seeds
Climate change creates hotter weather and drier seasons – and new challenges for farmers. With excessive heat damaging seed quality, seed producers and growers increasingly need uniform and productive crops with thermotolerance.
Researchers from the Department of Plant Sciences at the University of California, Davis, and the University of Florida Institute of Food and Agriculture are working on a project to identify genes that boost heat tolerance in tomato seeds and to improve general seed quality. The Foundation for Food & Agriculture Research, or FFAR, is awarding a $1.1 million grant through their Crops of the Future Collaborative to support the project.
Distinguished Professor Kent Bradford, Assistant Professor Bárbara Blanco-Ulate and Roger Chetalet – a geneticist and director of the C.M. Rick Tomato Genetics Resource Center – will round out the UC Davis team with Alfred Huo, an assistant professor of plant breeding, leading the University of Florida group.
"Environmental conditions during seed development and maturation can influence seed quality traits such as viability, dormancy, and the speed and uniformity of germination," Bradford explained. "Even small increases in temperatures can have huge impacts on pollination and fertilization."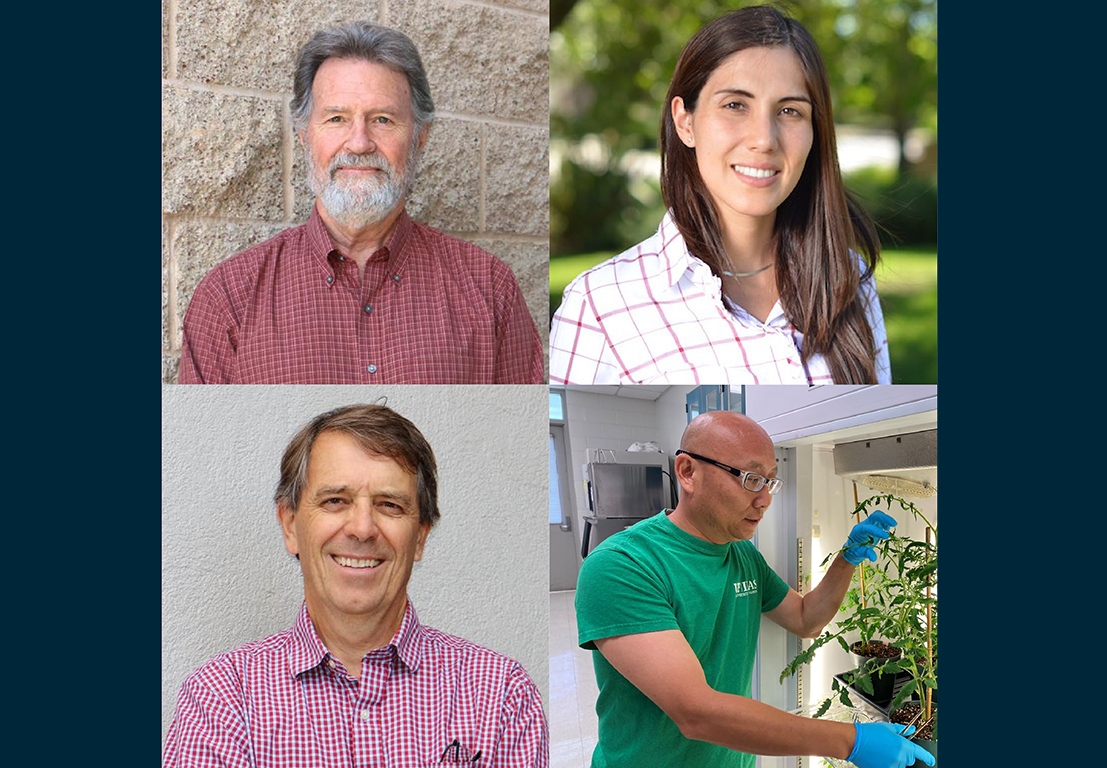 The team will be working with tomato seeds for their project. Tomatoes, a $1.67 billion industry, are known to have reductions in pollen viability and subsequent fruit and seed production in temperatures exceeding 98.6 degrees.
"We are still discovering how the maternal environment impacts seed yield and quality," Blanco-Ulate said. "This project will shed light on how the fruit, or maternal tissues, and their seeds communicate during their growth and development, and provide key information on how temperature affect these interactions."
"With this information, the team will be able to develop new strategies or genotypes for improved seed quality in tomatoes," said Blanco-Ulate, "with the possibility of their findings being able to advance the reproductive development of other crops."
The project will be sub-divided into three groups, with one research team at UC Davis focusing on seed physiology during development in relation to environmental conditions and fruit ripening. A second team at UC Davis is examining the effect of temperature on pollen viability and pollination of tomato plants and potential contributions from stress-tolerant related wild species.
"Crop wild relatives provide a potential source of genes for improved resilience to environmental stress," Chetalat said. "We will use novel breeding lines that incorporate defined genetic material from a wild tomato relative to identify genetic regions underlying pollen thermotolerance and seed vigor."
The University of Florida Institute of Food and Agricultural Sciences team is investigating how temperature affects tomato fruit development.
"Seed development is tightly controlled by genetic factors and environmental cues," said Huo. "The small RNAs, a type of short nucleotide, are responsive to environments experienced by the mother plants to regulate plant development and growth. We will examine the role of some RNAs in controlling tomato seed development."
Results from this research benefit farmers, fresh market and processing tomatoes producers as well as seed companies. A consistent supply of high-quality seeds is critical for maintaining high yields, which is vital for farmers and their bottom lines. Producers of fresh market and processing tomatoes will have higher quality seeds for establishing their crops. Seed companies benefit by better understanding how the crop genetics and environmental conditions influence seed quality.
"Seeds deliver advanced genetics to growers' fields, and seed quality is critical for achieving the plant populations desired by growers, whether in the field or in the greenhouse," Bradford said. "Our project is investigating the genetic and management factors that result in the highest quality seeds while also expanding the environmental conditions under which the crop will perform well."
Primary Category
Tags