UC Davis Chancellor Gary May Visits Plant Sciences Department
UC Davis Chancellor Gary May met with Plant Sciences Chair Gail Taylor and a number of faculty and researchers yesterday (July 31) to learn about the breadth and impact of the department, and what makes it the top-ranked Plant Sciences program globally.
Meeting in the Plant Reproductive Biology Building on campus, faculty shared their representative research areas with Chancellor May, including breeding, genetics and functional genes, seed certification, technology, the convergence of ecology and agriculture, agroforestry, ecological restoration, policy issues, and the positive outcomes from alliances with the Agricultural Experiment Station and Cooperative Extension.
Taylor stressed the importance of the strong translational research programs in Plant Sciences, from food to energy, to landscapes, to people. She noted that large global challenges are interdisciplinary, and that with this large Plant Sciences department, and its affiliations with other units on and off campus, the department is solving these challenges.
Attending this session were UC Davis Chancellor Gary May, Plant Sciences Chair Gail Taylor, Associate Dean Mary Delany (CA&ES), and Plant Sciences members Brian Bailey, Pat J. Brown, Charlie Brummer, Valerie Eviner, Ann Filmer, Amelie Gaudin, Rob Kerner, John Palmer, Jeff Ross-Ibarra, and Allen Van Deynze. Roger Chetelat joined for the subsequent greenhouse visit.
At one of the research greenhouses west of Highway 113, plant geneticist Roger Chetelat showed May, Taylor, Delany, and Brummer a variety of wild tomato species being grown for seed increase by the C.M. Rick Tomato Genetics Resource Center, including accessions (populations) native to the Galapagos Islands, the Atacama Desert of Chile, and the mountains of Ecuador.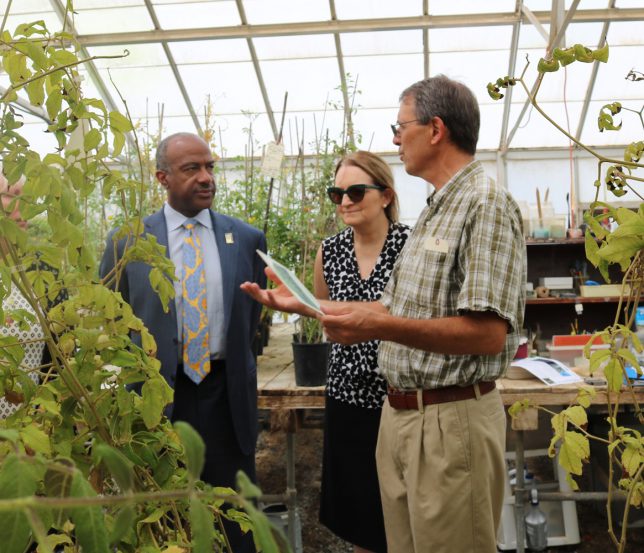 "The specific traits in each of these tomato species are being used to develop improved tomato varieties with resistance to diseases, enhanced fruit quality, or higher yield," said Chetelat, director of the Rick Center. "The unique germplasm collection maintained by the Rick Center fuels important research and breeding at UC Davis and throughout the world."
Following a successful visit, Taylor noted, "Today provided an important opportunity to showcase the world-leading translational research ongoing in Plant Sciences, from molecular breeding to cropping systems to ecosystem restoration. We highlighted the diverse scientific frontiers and real-world challenges addressed by our department's research, extension and teaching programs."
Chancellor May was impressed by the clear leadership roles of Plant Sciences in broad areas of policy, management, and industry. It was demonstrated to May that UC Davis is the "Silicon Valley for Seed," as expressed by the partnership between the Seed Biotechnology Center (one of the eight Research and Information Centers of the department) and Seed Central.
"We are looking forward to future interactions with Chancellor May as the new strategic plan for UC Davis unfolds and where Plant Sciences is well-placed to play a significant role," said Taylor.
[Article by Ann Filmer, Department of Plant Sciences, UC Davis.]
- - - - - - - - - -
[For past Plant Sciences news, go to https://news.plantsciences.ucdavis.edu/]
Primary Category
Tags